KPcommunity.org - The keratosis pilaris community offers you the opportunity to connect online with others. By getting involved in the discussions, you will meet other KP sufferers who understand and share similar experiences.

What is keratosis pilaris?

Keratosis pilaris is a very common skin condition. KP skin bumps are usually found on the back of the arms as well as the thighs and buttocks. There is no cure for KP, however it is a managable skin condition.

Keratosis Pilaris Treatment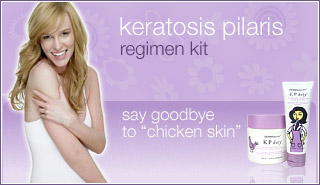 Contains all you need to control the symptoms of Keratosis Pilaris.

Includes one KP Duty Dermatologist Body Scrub with Chemical + Physical Medi-Exfoliation and one KP Duty Dermatologist Moisturizing Therapy For Dry Skin.